Family
---
McCroan Family Reunion
The last McCroan family reunion was held April 29, 2017, at Sneads Park in Sneads, Florida. The next reunion has not been planned.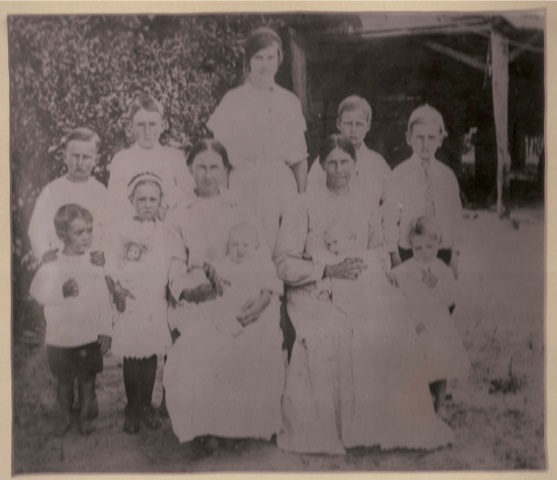 ---
Genealogy
PDF Charts and Outlines
The PDF files below were pro­duced using Family Tree Maker® v11.

Audio
Carroll Kinnon McCroan inter­viewed Fannie Davis McCroan (1882 — 1969) some­time about 1968 and recorded the con­versa­tion on tape. About 2005 or 2006, Ken McCroan, Jr., con­verted the taped con­ver­sa­tion to MP3 format. (This is a rather large file; so, be patient.)
Fannie's Southern accent comes from south­west Georgia. Carroll's comes from the pan­handle of Florida.
For more on-line information about the McCroan family, see www.edenfield.org.
Later this page may have more informa­tion on the follow­ing families:
McCroan
Laster/Lassiter/Lasseter
Thigpen
Ayers
The informa­tion will include PDF files, like those above, and scanned images of things that seem interest­ing, such as Barney Laster's family Bible or the Con­federate military records of Barney Laster and Joseph E. Morris.* Even­tually there may be a search­able data­base, but don't hold your breath.
Bertha Prosser Joiner
I met Bertha Prosser Joiner (née Bertha Iola Prosser) about 1977 or 78, not many years before she died. She was my maternal grand­mother's first cousin and a grand­daughter of Barney Laster. (She told us that she re­mem­bered sit­ting on Barney's lap as a small child and play­ing with his snuff box.) Later my mom showed me an old photo album with a faded pic­ture of a pretty young woman that my grand­mother said was Bertha. Apparently she had been con­sidered quite a beauty, which I as a teen­ager could not have guessed from the wrinkled face of the octo­genar­ian woman I met. For years we wanted to hire some­one to en­hance the photo but we didn't know whom we could trust. Even­tually the tech­nology advanced enough that we could do it our­selves. My mom recently gave me the photo album, and in March 2014 I finally got around to scan­ning and en­hanc­ing the photo. Click the thumb­nails below to see the full-size images, which are roughly 800 px × 1000 px.
Apologies
Keith first became inter­ested in geneal­ogy while he was still in high school in 1977 (before the mini­series Roots), when he got pos­ses­sion of Barney's family Bible. For a few years after that, he had time to spend research­ing the family history, but even­tually other duties began to inter­fere. So, the infor­ma­tion hasn't been up-​to-​date for a number of years now.
We deliberately omit data about the most recent gen­era­tions, because we think it may be a bad idea to pub­lish too much infor­ma­tion about people on the web — even some­thing as seem­ingly innoc­u­ous as a person's mother's maiden name. Also, some people feel that it in­fringes on their privacy.
* Barney Laster and Joseph E. Morris were Keith's great-​great-​grand­fathers. It is said that Henry J.J. McCroan and Amos Thigpen (also G-G grand­fathers) were Con­fed­er­ate veter­ans, but Keith has no records to prove it.